On Friday, October 21, 2022, 300 students and 25 schools competed at the Circle of Courage Oral Interp Tournament at Sioux Falls Washington. Beresford High School and Middle School Oral Interp ended up in 7th place overall in Sweepstakes against all of the "AA" and "AAA" schools, despite being the only school at the tournament that competed primarily with middle school students.
Special recognition went to Emma Andrews in Storytelling who received first place in each of her three preliminary rounds and got first from each of the three judges in the final round. Also advancing to finals were Issabella Russo, fifth in Novice Drama; Max Kinney and Jameson Quimet, third in Novice Duet Acting; Emma Andrews and Kennedy Merrigan, fifth in Novice Duet; and the acting ensemble including Emma Andrews, Lillie Boden, Kelan Borschel, Henry Huether, and Max Kinney who received fourth place in Novice Readers Theatre.
Previously on Sat., Oct. 15 in Brandon, the Interp Team had several finalists and winners including Max Josko, first in Varsity Humorous Interp; Emma Andrews and Kennedy Merrigan, first in Novice Duet Acting; Max Kinney and Jameson Quimet, sixth in Novice Duet; and Max Kinney, fourth in Novice Humor.
The Oral Interp Team invites and encourages all interested community members to attend the local Oral Interp contest on Monday, Nov. 7th beginning at 4 pm. Beresford high school and middle school students will compete to select the first-place local winner in each of the seven categories of interp and the right to represent our school at the Region 1A Tournament in Vermillion on Wednesday, November 16, 2022.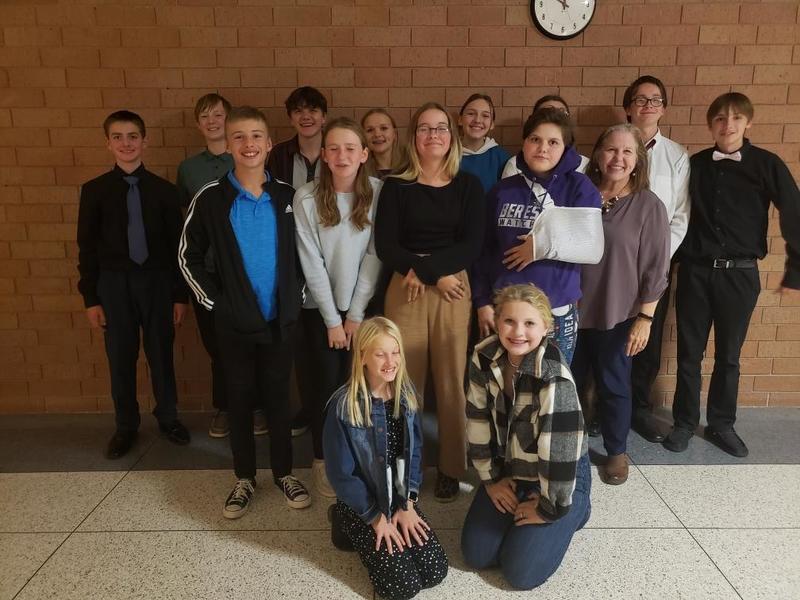 Front row l. to r. Lillie Boden and Bellamy Westra
Middle row: Henry Huether, Kennedy Merrigan, Dakota Reis, Juliet Josko, and Mrs. Tornberg
Back row: Max Kinney, Kelan Borschel, Max Josko, Emma Andrews, Sophia Coe, Issabella Russo, Jameson Quimet, and Espyn Klungseth.