Homecoming 2022 –"Under the Big Top"

Beresford High School proudly presents information regarding this year's Homecoming activities. Homecoming week is scheduled to run from September 12th through September 17th. This year's theme is "Under the Big Top!" The community is invited to participate in the Homecoming festivities throughout the week.
Senior students selected their Homecoming Royalty the week of August 29th, 2022. The queen candidates are Josie DeLay, daughter of Ben and Sara DeLay, involved in volleyball, FFA, and band. A fun fact about Josie is that she is left-handed in everything except throwing. Irelyn Fickbohm, daughter of Melissa and Ryan Fickbohm, is involved in volleyball, basketball, NHS, CPAT, and is the Vice President of the Student Council. A fun fact about Irelyn is she is a beast on the dance floor. Adyson Hansen, daughter of Mary and Trevor Hansen, is involved in basketball, track, Chamber Choir, NHS, SWAT, HOSA, and CPAT. A fun fact about Adyson is she is a good golfer. McKayla Roelke, daughter of William and Terri Roelke, is involved in volleyball, Chamber Choir, band, theater, and NHS. A fun fact about McKayla is she can purr like a cat. And lastly, Larissa Tiedeman, daughter of Ryan and Rachael Tiedeman, is involved in volleyball, Chamber Choir, and band. A fun fact about Larissa is she has broken three microwaves.
The king candidates are Aaron Larson, son of Tim and Julie, is involved in football, wrestling, track, and Student Council. A fun fact about Aaron is that he has a boat. Jack Erlandson, son of Cindy and Jon Erlandson, enjoys going to the gym. A fun fact about Jack is he has never seen Aaron's boat. Jake Goblirsch, son of Kim Goblirsch and Jim and Karen Goblirsh, is involved in football, basketball, and baseball. A fun fact about Jake is he has never ridden on Aaron's boat. Landon Schurch, son of Michael and Natasha Schurch, is involved in football, wrestling, track, and NHS. A fun fact about Landon is he has ridden on Aaron's boat. And lastly, Jaxsen Tadlock, son of Mike Tadlock and Susanne Merrigan, is involved in football and track. A fun fact about Jaxsen is he rode on Aaron's boat once.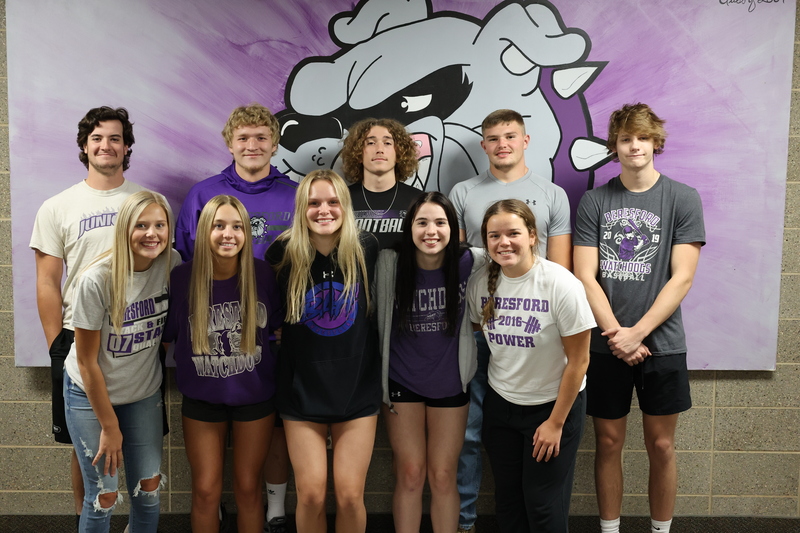 Back row: Jaxsen Tadlock, Landon Schurch, Jake Goblirsch, Aaron Larson, and Jack Erlandson
Front row: Josie DeLay, Larissa Tiedeman, Adyson Hansen, Irelyn Fickbohm, and McKayla Roelke
Beresford High School Homecoming Coronation/Variety Show will occur on Monday, September 12th, 2022, at 7:00 p.m., in the high school gymnasium. The burning of the "V" and playing of PEP Band selections will occur in the staff parking lot immediately following the variety show.
Parents and community members are welcome to attend the "Iron Man Volleyball" (Wednesday, September 14th, 2022, at 2:30 p.m., in the high school gymnasium) and the junior/senior competitions of "Powder Puff Football" (Thursday, September 15th, 2022, at 9:00 a.m., at the football stadium). During the junior and senior competitions, 9th-grade and 10th-grade students will have the opportunity to compete in Tug-of-War and Capture the Chicken.
Join us in the gymnasium on Thursday night to support our Beresford High School volleyball as they take on McCook/Montrose. Our community pep rally will take place on Friday, September 16th, 2022, at 10:30 a.m. in the high school gymnasium. The Homecoming parade will begin at 1:00 p.m. Parade line-up to begin at 12:15 p.m. Come and cheer on the Watchdogs as they take on the Flandreau Fliers at 7:00 p.m. Before the game, you can enjoy the Watchdog Education Foundation Community Pork Loin BBQ (this free-will donation event begins at 5:00 p.m. and ends around 7:00 p.m.). High school students will dance the night away on Saturday night in the Multi-Purpose Room from 9:00 p.m. to 11:00 p.m.
High school and middle school students will celebrate Under the Big Top Homecoming throughout the week on various themed days. Students selected Clown Day (wacky patterns) Monday, Juggling Through the Ages (decades)Tuesday, Ringmaster v. Circus Animals (animal print) Wednesday, Class Color Thursday (e.g., Seniors: black, Juniors: white, Sophomores: blue, Freshmen: pink), and Spirit Day Friday.
Join the Watchdog Foundation for our 2022 Run with the Pack Fanfest event at Homecoming! Celebrate our beloved Watchdogs while connecting with Beresford alumni and current students. Events will begin following the parade at 2:30 PM and commence at the Pork Loin BBQ hosted by the Watchdog Foundation. Visit all four locations to win a special Watchdog Foundation prize! While at each location, be sure to get your card punched (or pick up your card for the adventure). The day of events include:
Enjoy a Rootbeer Float with Jensen Insurance Agency!
Join Fyzical for Lunch!
Inflatables for the Whole Family at Sioux Corporation provided by the National Guard! and
End at the Pork Loin BBQ and receive a special gift!
Join us on Saturday, September 17, 2022, for our Watchdog Hall of Fame festivities. At 6:00 p.m., inductees and guests will have a catered meal by Cleavers at the Bridges of Beresford. If you are interested in attending the banquet, please call us for tickets ($30 each) at 1-605-763-4293 or email Rhonda.Peterson@k12.sd.us by noon on September 9, 2022. The Hall of Fame induction program will begin at 7:00 p.m. The program is open to the public. During the evening, we will induct Dr. Marvin Wastell, Mr. Paul Runyan, Dr. Shelly Kennedy, Mrs. Karla (Rick) Deuter, Mr. Brian Field, and the 1977 Girls' Basketball Team into the Watchdog Hall of Fame.
On Wednesday, September 14th, 2022, the Royal Court will travel around town and judge window displays on our local businesses. If you wish to compete in the competition, please be sure to have your windows decorated by Wednesday morning (September 14th, 2022). Who will take the prime position this year by capturing the interest of our judges? Businesses are encouraged to build a float and participate in the parade. Please get in touch with the high school office by Thursday, September 15th, 2022, to register your float.
GO WATCHDOGS!