Five Beresford Middle School Students competed in the National Speech & Debate Association (NSDA) 2022 online middle school National Tournament held June 7-9, 2022.
Four Beresford Middle School students competed in the National Middle School Oral Interp Online Contest. They are left to right: Max Kinney, Juliet Josko, Ariana Moulton, and Emma Andrews.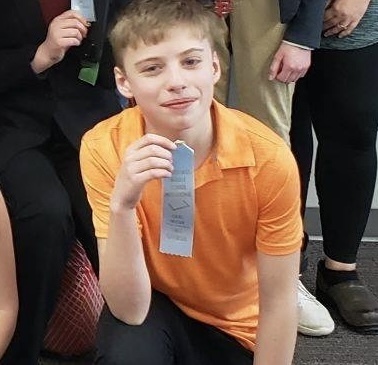 Henry Huether competed in Poetry at the National Middle School Oral Interp Tournament, June 7-8, 2022.

Two students competed in Asynchronized Poetry. This required a student to record his or her oral interpretation of poetry. Henry Huether performed "The Charge of the Light Brigade" by Alfred Lord Tennyson and "In Flanders Field" by John McCrae. Emma Andrews performed a comedic poetry selection, "Flattened Fauna" by Jim Gustafson. There were 101 middle school students entered in Poetry at the national competition.
Students could compete in multiple Asynchronized events, and Emma also entered the Oral Interp division called Storytelling. Emma's performance of "Lilly's Purple Plastic Purse" by Kevin Henkes earned her 4th place in the nation out of 102 competitors in Storytelling.
On June 7-8, four Middle School Students performed "live" at the online tournament. Max Kinney, Juliet Josko, and Ari Moulton competed in Humorous Interp with pieces they had selected for their 6th grade Reading Class Oral Interp Unit this past spring. Each of the students competing "live" was guaranteed four preliminary rounds with different judges and competitors for each round.
Emma Andrews also competed in Original Oratory at the "live" tournament in a speech she wrote entitled "TMI" about the dangers of sharing too much personal information. After the four preliminary rounds, Emma advanced to quarter finals, semifinals, and the final round of Oratory where she took 4th place out of 68 orators across the nation. She had a total of seven performances of her oration with five judges in the final round.
Every year, thousands of students join together to use the power of their words for change. It all culminates with the National Speech & Debate Tournament. This year, the tournament offered three divisions: online supplemental events, online middle school events, and in-person high school events. Following intense online competition between 827 middle school students from 173 schools, 24 students were declared winners from 18 different competitive speaking events at the National Tournament.
"Speech and debate change lives," said J. Scott Wunn, Executive Director of the National Speech & Debate Association. "From increased attendance to higher test scores and a rise in college acceptance, speech and debate prepares young people for college, the workforce, and beyond."
For nearly 100 years, the National Speech & Debate Association has built a platform for youth voices that have built the skills for actors, politicians, and our country's leaders.
###
About the National Speech & Debate Association
The National Speech & Debate Association is the largest interscholastic speech and debate organization serving middle school, high school, and collegiate students in the United States. The Association provides competitive speech and debate activities, high-quality resources, comprehensive training, scholarship opportunities, and advanced recognition to more than 140,000 students and coaches every year. For nearly 100 years, the National Speech & Debate Association has empowered more than 1.5 million members to become engaged citizens, skilled professionals, and honorable leaders in our society. For more information, visit www.speechanddebate.org.